Product Grid & Bulk Actions
Product management is one of the core abilities in Magento. Yet sometimes updating products can be time-consuming, and the more products the more time is required.
Advanced Product Grid is of great help here.
Convert your standard products' table into a convenient, AJAX-driven interface where you can apply changes directly in the table.
Select which columns to be displayed, which system values and product attributes you want to see in the table. Want to switch columns' places? Simply drag then and drop on a new place.
Bulk actions can fasten products' updating greatly. Additional bulk actions will help you updating selected attributes for a number of products together.
If there is functionality on the product grid you do not normally use - simply switch it off with Product Grid module and have more space for convenient product management.
This video shows how the Advanced Product Grid works: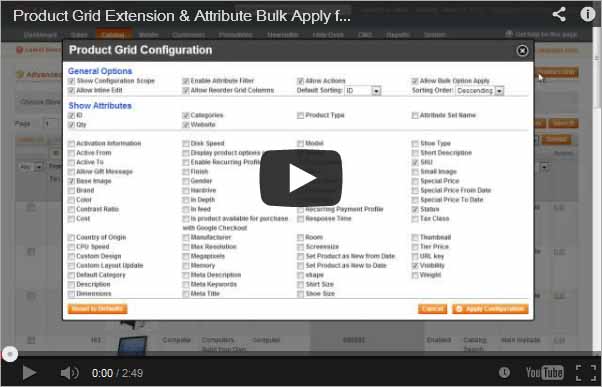 Features
» Select attributes/system values to be displayed on product grid
» Easy editing of products' values directly in the grid
» Uploading and editing product images directly on the product grid (NEW)
» Drag-and-drop columns' reordering
» Full management over the grid's page (functionality areas can be switched on/off)
» Bulk update available (change values of attributes for a number of products together)
Useful Links
Extension Page:
Advanced Product Grid
Documentation:
Advanced Product Grid User Guide
License
Magento extensions developed by IToris are provided with 2 license types for each Magento Edition - regular and premium.
Regular licenses are website-dependent. All stores and storeviews under one website will be handled by one license. Each website within one Magento installation requires a separate license.
Premium licenses cover the whole Magento installation including all its websites, stores and storeviews. This license type is recommended for customizations.
Apart from live website, the same license key covers a number of standardized sub-domains for development and testing purposes. Please see our license for the full list of supported sub-domains
We never base our prices on the number of products you have, neither do we make you depend on our server's stability.