Product Attachments by Amasty
Please find full description, live demo and user guide at Magento Product Attachments module page
Provide customers with comprehensive information about products, such as user guides, warranties and so on, using attachment functionality.
Unlimited number of files and various file types
Download stats reports
Complete multi-store support
Manage display priority for attachments
Nice icons for each file type to make pages more attractive
Content marketing tool able to complete a real product picture
---
Give additional info about the product
Some complex products need special methods of sales. You can add instructions, compliance certificates or interesting use cases to Magento product attachments and customers will be able to see the value of your products much better.
Improve product page presentation
Customers should see only useful product info, which will help them to take one more step to checkout. Additional information may be present on a product page, but it should have appropriate format and customers should be able to choose whether to see it.
Develop content sharing strategy
Everybody knows about usefulness of content-marketing. The extension gives you one more tool to develop content sharing in your store.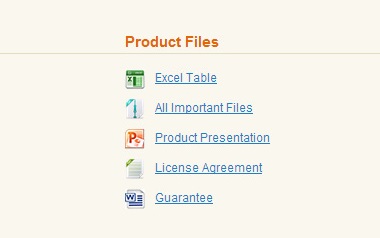 Catalog - product file - icons
---
Make your pages alive
Icons are a great tool to attract customers' attention to attached product files. Give customers extra guarantees that your products are the best not only using product description, but also adding important files to it.
Upload icon images for different file types
You can assign an individual icon to each specific file type. There's no limit for the number of icons you can have.
10 nice icons to start
There are 10 icons included in the extension. Of course you can change them at any time to make your store look more individual and vivid. Catalog - product file - reports
---
View reports containing data about downloaded files.
With this Magento file manager you'll able to view reports containing such info as date, product id, product name, file name, default file label, file url, file rating and store view. You can also use Magento download option and export reports to CSV format in order to analyze and collect the information about useful downloads.
Collect different reports for each store view.
Track trends of valuable info for each store view you have. Create reports for different stores in order to make your stores culturally sensitive. You can view reports by day, month and year.
Analyze reports to improve product presentation
Find out what data is popular among customers to adjust to their tastes and needs and offer high quality relevant content in the future.
Catalog - Product Files tab
---
Upload product files
Magento file upload tool enables you to upload unlimited number of files and countless number of file types (avi, txt, pdf, doc, pptx, xlsx etc.)Thus, one can easily add pdf to product in Magento as well as to take advantage of many other file formats.
new! Upload attachment files right on the product grid
Uploading file attachments has never been so easy. You can quickly add necessary files just by dragging them from your computer right on the product grid.
Name the files the way you want customers to see them
In 'Title' field you can specify a file name which will be shown to customers on the front end.
Mark files for your own recognition
'File Name' field reflects the name of the file as it is on your computer. However, you have an ability to change the name thanks to this Magento file attachment extension. It may be useful if you want to show different file names to customers and yourself, for example, to recognize needed files in the reports.
Make files visible or invisible to customers
There's no need to upload files over and over again. You can hide files from your customers and make them visible at any time you need.
new! Specify attachment visibility for different customer groups
You can determine a customer group to which the product attachment will be shown and choose whether to show or not product attachments to the customers who have purchased the item.
Select sorting priority of the files
Show customers the most significant files first. Type numbers from 0 in 'Sort Order' field to give priority to the files. The smaller number a file has the higher position it will take.
new! Improve customer experience with the Autodetect File option
This feature enables customers to open attached files right in the browser window instead of downloading them. Apart from that each file will be automatically open in a new tab.
'Use default value' checkbox
This option is extremely handy if you're using different store views. For example, you have 2 store views – English and Spanish. English store view in the default one, it has its own files and settings. So if you want the Spanish store view products to have values in Spanish, you don't need to use the checkbox. And if you want the Spanish store view products to have the same values as English store view, you can use the checkbox.
Save your time due to the Mass copy feature
Use this feature to copy any file attachments to numerous products at once right on the product grid.
new! Bulk files upload
In order to use this option upload product attachments via FTP, then create a CSV file to get uploaded documents match the right products.
new! Work with attachments using Magento API
Now you can use Magento API in order to read, add or delete product attachments and make this process quick and easy.
Product Attachments user guide
Live Demo:
Frontend
and
Backend
Extension Updates Log:
Version 1.6.1 - May 29, 2015
– Possibility to make attachment visible per customer group.
– Possibility to make attachments visible for customers who purchased a product.
Version 1.6.0 - May 20, 2015
– Possibility to mass upload and import files via CSV/FTP.
Version 1.5.0 - Apr 07, 2015
– File size is now displayed on frontend for each downloadable file.
– Uploaded files with links are now displayed on the product grid in the backend.
Version 1.4.1 - Apr 01, 2015
– Minor fixes.
Version 1.4.0 - Mar 17, 2015
– Possibility to work with attachments using Magento API.
– Possibility to upload attachment files right on the product grid.
– Settings for attachments block location: on a page, in a tab.
Tags:
file upload, product attachments, file manager, file attachment, file download, attach file to product, product file attachment, add downloadable file to product, add file to product, attach files to products, product file attachments, product files, product page attachment