Multi-Category Layered Navigation
Substitute standard Magento functionality with a new tool that provides intellectual search logic (that changes depending on what your customers need more), multi categories and sub-categories selection, visual price range and much more.
The module is developed so that customers never see 'no results' page. Intellectual logic hides and shows options based on customers' needs and previous selection, so that some options become more important that other ones.
Moreover, the module defines which options to have more priority depending on customers' selection. These options will be displayed while others, less important, can be hidden.
With default functionality there is a case that when you narrow search you lose all previous selections. This module keeps previous selected options, and if customers change categories or sub-categories the options are applied to them.
Multi-categories allow customers to select several categories and/or sub-categories together to get the resulted list of products they are interested in.
Friendly URLs provide full indexation for search engines as well as allow customers to copy URLs with all options selected and resulted list of products saved.
There are several convenient tools for customers to manage their selections - expanding/collapsing of options, ability to clear selected blocks or all selections together to start from scratch.
This video shows how the Layered Navigation works: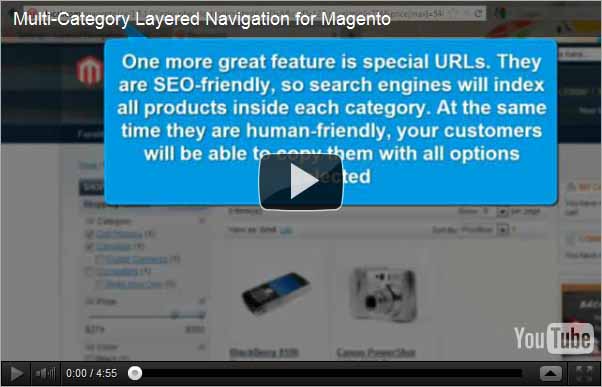 Features
» Multi-options
» Multi-categories and sub-categories
» Visual price scrollbars
» SEO- and human-friendly URLs
» Easy management of selections - expanding, collapsing, clear some blocks or all selected options
» Intellectual logic of search - module defines which options are more important and changes the selection depending on it
» Resulted products always available, 'no results' case impossible
» Previous selections to be applied when sub-categories chosen
Useful Links
Extension Page:
Multi-Category Layered Navigation
DEMO:
Layered Navigation DEMO
Documentation:
Layered Navigation User Guide