Email Templates Manager
Not only do your customers deserve simplifying their online store experience and saving their time; you deserve it also.
Email templates' creation can be intricate in Magento - but not with
Email Templates
Extension by IToris.
WYSIWYG editor where you see the resulting look immediately, separate emails' area where all emails are available and management is applied - this makes
Email Template
extension an indispensable tool.
We all know how important emails are - this is your way to communicate with the customers, to present the individual style and look of your store, to make them select your services. Ability to easily manage email templates makes your customers' experience better, your store - more attractive and your life - easier.
This video shows how the Email Templates Manager extension works: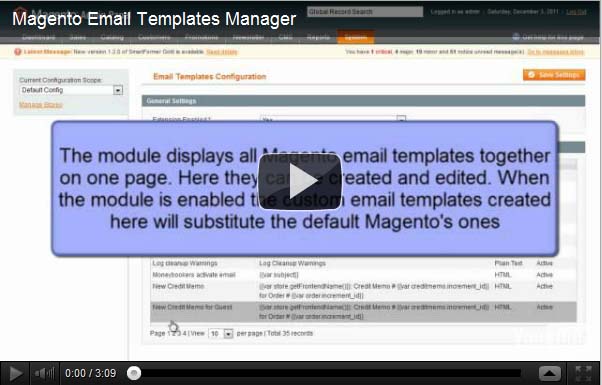 Features
» All email templates collected together in one area
» Visual interface, all work can be done on the same page
» WYSIWYG editor for email body
» File attachments made easy
» Defaults templates stay unchanged, substitution is automated
Useful Links
Extension Page:
Quick Buy + AJAX Search for Magento
DEMO:
Quick Buy + AJAX Search DEMO
Documentation:
Quick Buy + AJAX Search User Guide
License
Magento extensions developed by IToris are provided with 2 license types for each Magento Edition - regular and premium.
Regular licenses are website-dependent. All stores and storeviews under one website will be handled by one license. Each website within one Magento installation requires a separate license.
Premium licenses cover the whole Magento installation including all its websites, stores and storeviews. This license type is recommended for customizations.
Apart from live website, the same license key covers a number of standardized sub-domains for development and testing purposes. Please see our license for the full list of supported sub-domains
We never base our prices on the number of products you have, neither do we make you depend on our server's stability.