Improved Sorting by Amasty
Please find full description, live demo and user guide at Magento Improved Sorting module page
FREE TRIAL and installation for Enterprise Merchants. Get it here!
Make your store more user-friendly to increase profit.
---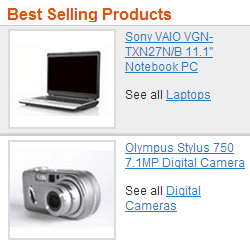 Comfortable shopping experience for your customers.
Improved Sorting will give each customer an option to display the products in the order, which suits him or her best. More user-friendly site for customers - more orders for you, everybody wins.
Let your best products sell even better.
Very often it is difficult to predict which products would become more popular and sell better. At the same time it is well-known that a few popular products bring more revenue than all the rest ones. Then why not help your cash cows generate even more profit? With Amasty's Improved Sorting product sales and ratings will automatically get them to the top. Also you can manually manage the order of products for some options and create necessary featured product block. It's literally a must-have addon, available in all major web-stores.
Improved usability with new sorting options.
---
Sorting by savings, display name 'Biggest Saving'.
You may offer great deals, however they don't work your business when customers can't find them. This option displays products based on the difference between regular price and special price. The bigger the difference - the higher the product is shown in the list. It will be very popular while holidays, as people are used to getting discounts during such periods. Customers will just look for a store that has better offers, so don't miss the chance to properly show your specials.
Sorting by sales, 'Bestsellers'.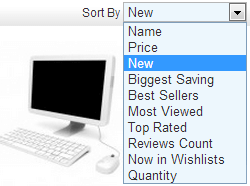 Each store highlights its bestselling products, as high sales demonstrate that a product is great. For many people this makes choosing the right product a lot easier. They will think, 'If this product is good for many other people, it will be good for me as well'. Thus, sort by popularity option helps visibly increase your conversion rate by drawing attention to the most popular products. You can also specify the period, for which the sales are counted, for example last 100 days.
Sorting by product creation date, 'New'.
When a customer chooses Magento sort by newest option, new products are shown at the top. Many site visitors like to see what's new, because people like owning new products. This option works especially well for fashion stores, mobile phone stores and other sites of the kind, where people always look for new trendy things. You can use a custom date attribute for managing the order of product display for this option.
Sorting by Magento product rating and by the number of reviews, 'Top Rated' and 'Reviews Count'.
When shopping, people are looking for product information, which they can trust. There's nothing they will trust more than rating and reviews, as this is feedback provided by their fellow customers.
Sorting by the number of product views, 'Most Viewed'.
Magento most viewed products option is very useful for new sites, when there are not very many orders. Views are generated a lot faster and you will enable customers to find out what products are more popular. You can specify the period, for which the views are counted, for example last 100 days.
Sorting by presence in wishlists, 'Now in Wishlists'.
Many people buy things, which other people have or want to have. Also best-selling products may be difficult to get in holiday season. 'Now in Wishlists' will show products that are most frequent in wishlists - people will be afraid to miss the opportunity to get them and will place orders faster.
Sorting by the amount of products, 'Quantity'.
This type of sorting is useful for wholesalers, who buy products in large quantities. Now it will be easy for them to find out which products have the most stock.
NEW! Advanced sorting options based on product's profitability
With a set of brand new sorting options admin users can easily display the most profitable (or the least profitable) products in sort results and featured blocks, thus effectively regulating sales of particular products. New options include sorting by:
- Profit (is calculated as Price minus Cost);
- Revenue (sorting is based on a product's sales amount);
- Revenue per view (represents the estimated earnings you receive for every product page view);
- Order per view;
Works for catalog and search
Sorting works both for products from the catalog and key word searches.
Blocks with featured products.
---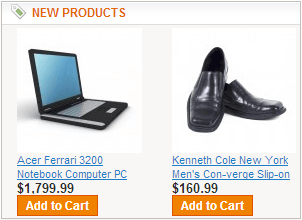 Create featured product blocks based on sorting options.
Now you have an opportunity to add a sidebar block with most viewed products or top block with bestselling products and so on. For the blocks you can use templates provided with the extension or create your own ones. You can create featured product blocks of your magento bestsellers, most popular products and so on. Please see the demo for examples of such blocks.
Display products from any category in the blocks.
You can add the product blocks to any Magento page. In the blocks you can show products from the category they are displayed in or from any category you specify.
Advanced catalog management features.
---
Manually manage the order of products in Bestsellers and Most Viewed lists.
The extension lets you automatically order products based on the sales amount or number of views. If you would like to manually move some products up in the bestsellers and most viewed lists to sell them quicker, this is also possible.
Ability to have descending order by default.
In Magento all sort by options have ascending order. So if, for example, you would like to display most expensive items at the top, you can not do it. The extension enables you to display items from high to low.

Display out of stock products at the end of the product list.
It's better to display at the top products, which you can sell and make money on. Customer will still be able to see and search for out of stock products. If necessary, this feature can be disabled. Also this feature takes effect only for catalog pages, search results remain as are.
Show products with zero quantity at the end of the list.
If you allow backorders, some products may have inventory status 'in stock', even if their quantity is zero. You can display such products at the end of the product list, when needed.
Set sorting by any of the new options as default.
You can make any of the new sorting options default both at the catalog and category level.
Additional helpful features.
---
Ability to disable sorting options.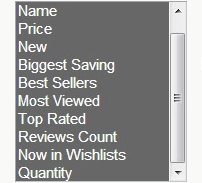 You can disable any of the new sorting options both at the catalog and category level.
Optional indexing.
The indexing mechanism ensures your category pages are loaded fast even if you have a very large catalog.
Works with layered navigation.
The extension enables customers to apply all sorting options to product lists generated by layered navigation.
EE note.
The extension supports MySql Fulltext search engine, Solr support will be added in the next versions.
LIve Demo:
→ General Settings
you'll be logged in automatically
→ Electronics Category
See category page sorting and biggest savings sorting block
→ Cell phones Category
See how customized sorting of bestsellers work
Improved Sorting user guide
Also the extension:
---
comes with the user guide
meets all Magento development practices
100% Open Source
is easy to install (takes just a few minutes)
Additional services:
---
Professional 120-day free e-mail support, help and guidance
2 week moneyback
Paid extension customization
Please visit the Magento Improved Sorting module page to see the complete Change Log list.
Extension Updates Log:
Version 1.3.0 - Mar 26, 2015
–New sorting options - by product total profit, by product revenue (minus cost), by product performance (orders per views and revenue per views)
Version 1.2.5 - Oct 10, 2014
– Ability to exclude some order statuses from bestsellers calculation.
– Fix for "new" sorting for some configurations.
Version 1.2.4 - June 27, 2014
– Tested with the latest Magento CE 1.9 release.