Homepage Tabs Slider
Want to present several groups or types of products for your customers and still save space? Have a lot of information and want it to be available in one place? Organize your Homepage or other pages in a tabular area with Homepage Tabs Slider.
Homepage Tabs Slider
creates tabular interface that you can embed as a widget on the Homepage on any other area of your website. You will create a set of tabs to be displayed for your customers, that can contain your important information including texts, images, links and so on.
Apart from this insert widgets in the tabs. For example, if you combine Homepage Tabs Slider with another our module,
Homepage Product slider
- you can create several tabs of products organized in the sliders. Each product slider to contain its own category or type of product. Thus you can show your customers all your best products and still save a lot of space for other information.
Tabs are created in minutes with WYSIWYG editors and convenient management. And even more - they are inserted on pages in minutes as a regular Magento widget. Flexible settings allow you defining the size of the tabs' area.
There are several effects for tabs to change each other available - select the one you like most. Also, you can set tabs to be switched on click or on mouse hover.
This video shows how the Homepage Tabs Slider extension works: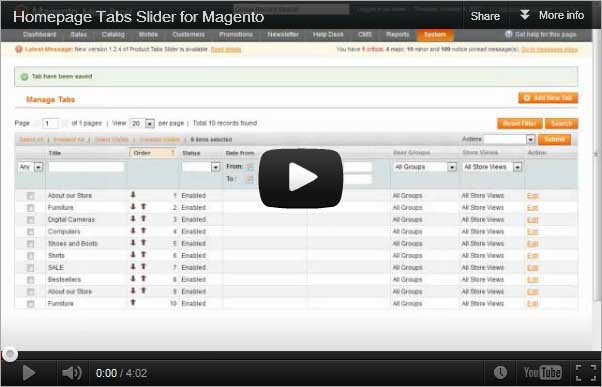 Features
» Embed in Homepage or anywhere on your website as a widget (fast)
» Create content tabs, gallery tabs or insert widgets in tabs
» Combine with
Homepage Product Slider
module and create several tabs each containing its own list of products organized in a modern slider - present your best products for your customers together
» Save space and add mode information with tabular structure
» Several sliding effects available when tabs are changed - horizontal sliding, vertical sliding, fading
» Set auto-height of the tabular area or set the height manually
» Tabs to be switched on-click or on mouse hover
» 2 ways of tabs loading: immediate to provide search engines' indexation of all information in the tabs, or step-by-step to load the page faster and save your customers' traffic
Useful Links
Extension Page:
Homepage Tabs Slider
DEMO:
Homepage Tabs Slider DEMO
Documentation:
Homepage Tabs Slider User Guide