Homepage Product Slider
Need an easy way to introduce your best products? Add them as a modern slider with
Homepage Product Slider module
.
Sliders are added as widgets - you can embed as many as you wish - with several clicks on the Homepage or anywhere else on your Magento. Neutral design and ability to set the maximum number of products make it fit your website, while large selection or product types allows you presenting your products better.
They can contain different types of products - bestsellers, recently added, most rated or reviewed, most often added to wishlists. Products on sale can be added to the sliders as well as products from a selected category or several categories.
Want even more? Combine Homepage Product slider with another our module,
Homepage Tabs
, and create tabular product sliders as well as content tabs for your Homepage or other pages.
This video shows how the Homepage Product Slider extension works: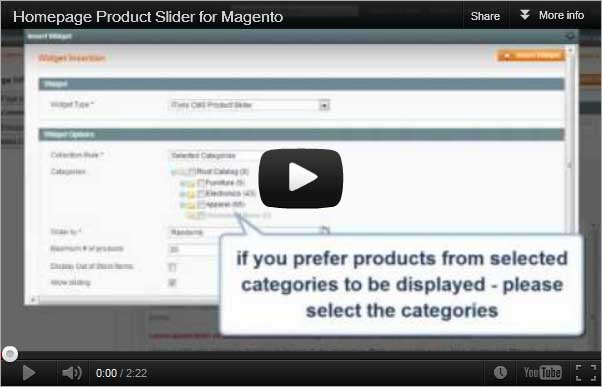 Features
» Embed in Homepage or anywhere on your website as a widget (fast)
» Several types of products available:
»» Top Rated
»» Top Sellers
»» Just Added
»» Most Reviewed
»» Wishlist Top (products that are added to wishlists most often)
»» On Sale
»» Random
»» Selected Categories
» Scrolling back and forth or static products' list
» Add as many sliders on the same page as you wish
» Neutral look to meet your design
» Select order of products' display - randomly, by price, alphabetically, most reviewed, having the largest discount, most rated or newest.
» Integrate with
Homepage Tabs
to create tabular sliders of products for your Homepage or other pages.
Useful Links
Extension Page:
Homepage Product Slider
DEMO:
Homepage Product Slider DEMO
Documentation:
Homepage Product Slider User Guide
License
Magento extensions developed by IToris are provided with 2 license types for each Magento Edition - regular and premium.
Regular licenses are website-dependent. All stores and storeviews under one website will be handled by one license. Each website within one Magento installation requires a separate license.
Premium licenses cover the whole Magento installation including all its websites, stores and storeviews. This license type is recommended for customizations.
Apart from live website, the same license key covers a number of standardized sub-domains for development and testing purposes. Please see our license for the full list of supported sub-domains
We never base our prices on the number of products you have, neither do we make you depend on our server's stability.