Homepage Content Slider
Create a smooth and nice slider with images/banners/content and embed it on the Homepage or anywhere else on your Magento as a widget with
Homepage Content Slider
.
With auto-rotation (several effects available) the slider will display large slides as well as tabular previews - set them rotate with several effects available, or make them clickable only.
With Homepage Content Slider you can create a set of banners that will redirect your customers on click, or beautiful image gallery, or a set of content slides. Both main slide and previews in tabs can contain images, texts and links.
Several pre-created design schemes to meet your website's design perfectly, easy embedding as a Magento widget, several sliding effects available as well as ability to define where the previews to be displayed (left, right, top or bottom of the main slide) make Homepage Content Slider a great tool to create slides on your Magento.
This video shows how the Homepage Content Slider extension works: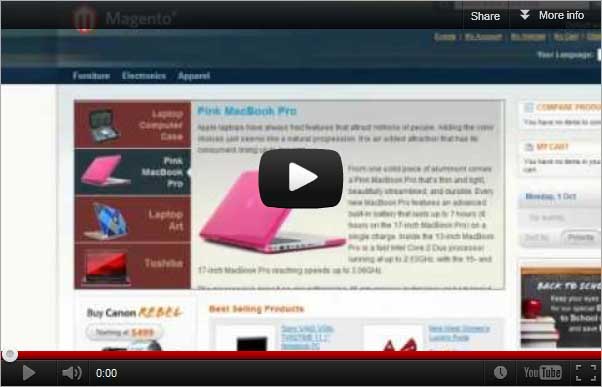 Features
» Embed in Homepage or anywhere on your website as a widget
» Main slide and tabular previews
» Auto-rotation with delay in seconds and manual clicks on previews
» Several sliding effects available
» Several pre-created design schemas
» Both large slides and previews to contain images/ texts/links
» On-click redirect with ability to open in a new page
» Automated or manually adjustments of the slider's size
» Previews to be displayed on the right/left/top/bottom on the large slide
Useful Links
Extension Page:
Homepage Content Slider
DEMO:
Homepage Content Slider DEMO
Documentation:
Homepage Content Slider User Guide