Events Manager
Have great events and want them to be widely attended? It's now easy with
Magento Events Manager
.
Several display modes
your customers will see month, week or day, up to you. And they can switch between modes as well.
Sorting
- make some events of a higher priority and allow your customers sorting by priority or time.
Each display mode - months, weeks, days - will have a unique
SEO URL
. Single events will have their unique URLs as well. This will improve your promotion and indexation by search engines.
Want
events calendar's link
to be easily available? Add it to the user menu, near the wishlist, login and cart (instruction in Userguide)
Create an additional
block with today's events
and add it anywhere on your website in addition to the events calendar.
Flexible settings
- European/US week start - Sunday or Monday, am/pm or 24 hour time to be selected. Decide how many months should be available for leafing through, starting from the current one and onwards.
This video shows how the Events Manager extension works: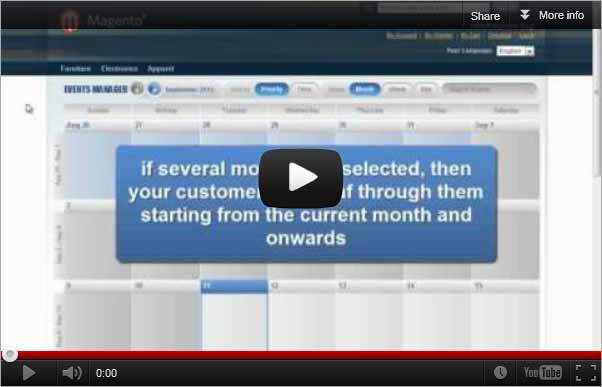 Features
» Several display modes of events calendar - month, week or day
» Search or events available
» Events sorting by time/priority
» Unique SEO URLs for events calendar, for month/week/day mode, for single events
» Full management over events calendar's look
» Additional small events block (add anywhere on your website)
» Events link to be easily added to the user menu
Useful Links
Extension Page:
Events Manager
DEMO:
Events Manager DEMO
Documentation:
Events Manager User Guide