Drag-n-Drop Registration Fields Manager
Need to add new fields to registration form? It's so easy with
Registration Fields Manager
!
Not only that the module is powerful, developed with modern standards and easy to use - it has plenty of great features and abilities.
Back-end
Drag-n-drop manager.
To restructure your form you simply need to drag fields to another place and drop them there
Sections.
Easy creation of sections - like on standard form, but as many as you need.
Fields' types.
Plenty of fields' types available, each has special settings to make creating custom form even more flexible.
Validation.
Validation is built in, you only need to select.
CSS classes and HTML arguments.
Additional settings for advanced usage.
CAPTCHA.
Ability to add additional protection to the form.
Customers' management.
All custom fields are saved in admin area the same way as standard ones. Administrator can view and edit them.
Front-end
Custom registration form.
It will substitute standard form automatically, as soon as the module is activated.
Look and Style.
The form will use the CSS of the template. Or you can set other classes.
Account Details.
Customer account builder - the account will have the custom fields added to the registration form
Different Registration Forms for different stores
Each store to have its own custom registration form
Pull standard Magento fields to registration
Such fields as address, phone, Vat, etc. can be pulled to registration form. They will be bound to these fields in profiles
Allow users selecting customer group
You can set registration form so that customers can select the custom group
This video shows how the Registration Fields Manager works: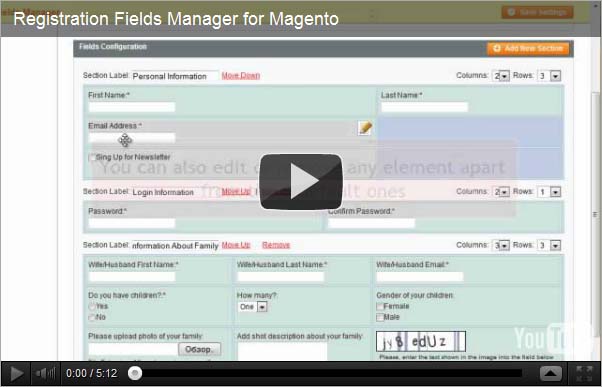 Features
» Any new custom registration fields
» Any new additional sections in registration form
» New fields to be displayed in customers' accounts
» New fields to be displayed at the back-end
» Less spam - add CAPTCHA
» Built-in validation
» Drag-n-drop form's editor
» Maximum flexibility - change the fields' order, sections' order, move fields from section to section, etc.
» CSS classes for new fields*
» HTML arguments for new fields*
» Available elements:
Input Box, Password Box, Checkbox(es), Radio(s), Select Box, List Box, Multi-select List Box, Textarea, File upload, Static Text, CAPTCHA
* for advanced users
Useful Links
Extension Page:
Registration Fields Manager for Magento
DEMO:
Registration Fields Manager DEMO
Documentation:
Registration Fields Manager User Guide