Admin Actions Log by Amasty
Please find full description, live demo and user guide at Magento Admin Actions Log module page
Be aware of how, when and by whom your store data has been changed.
---
See all the actions performed by you and other admin users in the store backend.
Why is it so important? Let's imagine something went wrong in your store, and you really need to see who had made these changes. Now you can just open Magento admin actions log and find this out. Moreover, you can control the managers of your store more efficiently when you see the actions they perform.
Optimize the work of your admin staff, exclude overlapping.
Have you ever doubted whether your store managers are efficient enough? Now it's easy to find out. Tracking the actions performed by each admin user, you can see if they do the right activities and at what time. You will be able to better distribute the administration responsibilities, control how they are performed and exclude overlapping. E.g., it's easy to track when 2 managers are doing the same thing or are performing wrong actions.
Track admin performance and reward the best managers.
Want to reward the best manager? Filter actions by users and date on the 'Action Log' grid and find out whose performance is really high. Use the chance to increase your team motivation.
Protect your store from robots.
It often happens that robots spoil life of e-commerce managers. With the module you can protect the store from multiple harmful login attempts. When a script tries to pick up the right passwords, the system blocks the login attempts and gives no chance to get into admin panel of your store.
NEW! Real time tracking of admin users actions
With a new 'Active sessions' feature you can track the actions of all admin users in online mode and terminate the session in case of any mistakes or robot attacks.
Know everything your admin users do in admin panel.
---
Log the actions of specific users.

You can choose only specific admin users to record log history for.
'Action Log' grid shows all the actions performed in store backend.
View recorded actions easily and quickly on the grid. You can see the following information:
- date when an action was performed
- the person who has done it
- type of the action, e.g. deletion, editing or creation
- which object in Magento was affected
- the item which has been changed
-
new!
you can also easily filter all login attempts by date.
Use preview or detailed view of the changes performed.
You can preview changes details right from the grid with small preview window as well as go to the page with more thorough information.
Specify the time period during which the log records are kept.
You can set the time period after which the logs are deleted. E.g. remove the records, which are 2 or more months old.
Automatic tracking feature
Now you've got the possibility to automatically track actions of all new admin users.
Possibility to restore recent changes
If one of admins for some reasons made incorrect changes in your store, you can restore them nearly in a trice.
NEW! Display order comments in the actions log tab
In case one of admin users leaves a comment on a particular order page, this comment will be displayed in the admin actions tab.
NEW! Keep track of admin role changes
When the role of an admin user is changed, you'll be able to see the changes in the admin actions tab. These data will be available not only on the admin log details page, but in the preview mode as well.
NEW! Display history of changes on corresponding pages
With the the Admin Actions log Magento Extension you can see the actions performed:
- On product pages (each product page contains actions log for a particular product);
- On order info pages (actions log for a particular order);
- On customer information pages (actions log for a particular customer);
Get full control over login actions in store backend.
---
Specify the number of login attempts before the user is blocked.
Let's say you allow 3 attempts for users to fill in the right password. If all the three attempts are wrong, the user is denied access to admin panel page. It's especially useful to defeat robot attacks.
Apart from that, to keep your login history clean and up-to-date you can specify a particular time period (in days) after which the information about old login attempts will be deleted.
Ban users for a specific time period.
You can choose whether to ban a user forever or for a specific time period. After the specified lockout time has passed, the user can log in to admin panel with the right password again. If you ban the person forever, he or she can get access to the site only after you manually unblock the user.
Detect login geolocation
Use GeoIP support to determine country and city from where admin has logged in. To enable this option you need to download the file.
View login attempts list on one page.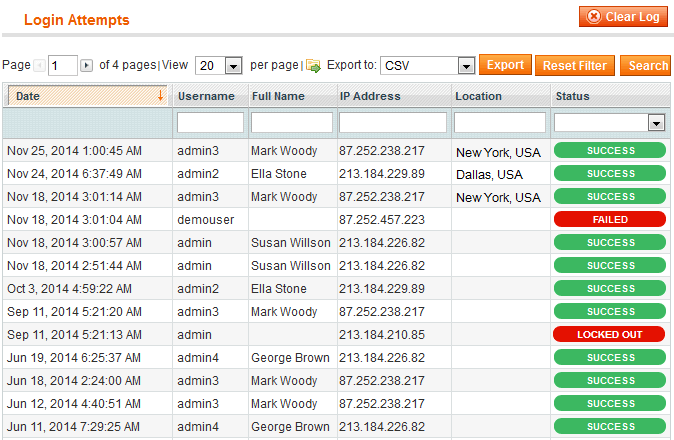 At the 'login attempts' grid you can see:
- the time of login attempts
- the people who performed them
- IP addresses
- the statuses of the attempts. Successful, failed (when a person fills in an incorrect password) or locked out (when a person tries to log in while being banned)
-
new!
now all admin log outs are also displayed in the Status column
NEW! Get notification in case of multiple login faults
When there are several login attempts during a short time you receive email notification of these break-in faults.
NEW! E-mail notification on login from unusual country
You can get email notification if a user tried to log in from another country. Such kind of email contains the information of user name, full person name, IP and a country from where the attempt was made.
Equip your admin management system with one more powerful tool
---
Let your admin users and vendors see and edit only particular categories and products
You have also a great opportunity to enhance your website monitoring. Assign permissions to users for editing certain products, categories, Magento store-views and websites. With the help of Advanced Permissions extension one can easily manage online stores with rich item catalogs as well as multivendor and maltilanguage stores. Let everyone play their unique roles to make the work of the whole store even more productive.
Log customers actions and drive more sales
Use a Live Stream of customers actions to stimulate sales. Show informative AJAX notifications about the actions other customers take in your store, e.g. 'Product X was ordered by 3 people', etc.
Admin Actions Log user guide
Live Demo:
Backend
Other features:
---
100% Open Source — Easy To Customize
Follows Magento Code Architecture
Separated HTML/CSS/JS
W3C Validated Code
Please visit the official Magento Admin Actions Log module page to see the Complete Change Log list
Extension Updates:
Version 1.5.0 - Jun 22, 2015
– New feature: possibility to display page visit log for each admin user (which pages they open in the backend and how long they stay on each page)</span>
– Setting block restructuring to improve usability</span>
Version 1.4.4 - Jun 10, 2015
– Automatic purge of login attempts log after specified number of days</span>
Version 1.4.1 - Mar 30, 2015
– Minor fixes and improvements
Version 1.4.0 - Mar 19, 2015
– "History of Changes" tab on product edit page, order view page and customer edit page with ACL (access control list) support
– Logouts are now tracked in the "Login Attempts" log
– New events are logged now: change of user rols; commenting to order
– Login attempts grid now gets date/time filter
– Some code improvements
Version 1.3.0 - Feb 16, 2015
– Active Sessions page added to display current active backend sessions with possibility to terminate any of them
– Possibility to close details window with Escape key
– GeoIP Data import improvements
Tags:
admin actions log, log in to admin panel, admin activity, audit log, actions history, admin log, log user actions, magento actions history magento admin activity, admin log module, magento audit log, admin log extension, admin log magento, magento admin actions log, magento log user actions, magento log extension