Advanced Help Desk
Help Desk module is an advanced ticket support system, rich in features and flexible to completely meet your needs.
Support from can be added in customers' accounts, or contact form to be used as support form, or even Questions&Answers form on product pages can work as support form. You can select one of them or use all of them together.
There will appear a new area in customers' accounts - with ability to ask new questions as well as track the history of questions, read answers - see full communication history.
Support management includes ability to create several support departments, assign operators to them. New support tickets can be assigned to departments or directly to operators. There are plenty of convenient tools to easily manage support tickets.
Statistics in admin area provides full support state. Ability to see the full support picture directly from dashboard in admin area.
Advanced email system in addition to expected email notifications to both customers and operators includes ability to convert email replies to support tickets. Cron allows closing the replied tickets on time schedule.
Help Desk is a must-have to create flexible advanced support system on your website.
We provide a 7-day full functional trial, you can install Help Desk and check all its options absolutely for free! If you then decide to purchase it - you can simply activate your trial and all previous work will be kept.
This video is a short presentation of the Advanced Help Desk extension: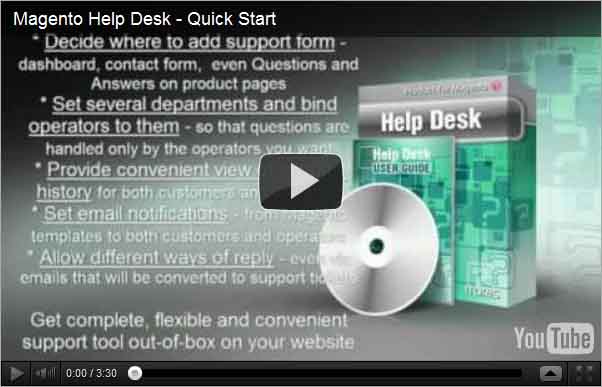 For more videos please visit the official extension page
Features
» Support form - converted from contact form, additional form in customers' accounts, ability to convert Questions&Answers form on products' pages to support form
» Access settings for customers (logged in/not logged in customers)
» Support management - departments, operators' assigning
» Advanced email notifications' system
» Support statistics in admin area
» Email replies to be converted to support tickets (customers)
» Cron to close support tickets on time schedule
Useful Links
Extension Page:
Advanced Help Desk
Documentation:
Advanced Help Desk User Guide